May 22, 2023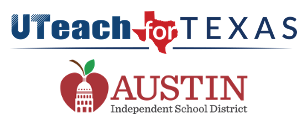 Austin ISD has committed to financially support the preparation and support of 20 new STEM teachers to work in its highest-need campuses. For 25 years, UTeach at The University of Texas at Austin and Austin ISD have worked as partners to prepare undergraduate students to be science, math, technology, and engineering (STEM) teachers. Beginning in the fall of 2023, this partnership will expand to prepare individuals who already hold a STEM degree through a streamlined, five-month program known as UTeach for Texas. Austin ISD is extremely excited to establish this partnership as an innovative approach to preparing and certifying teachers in high-need areas such as STEM education. 
Participants in the program will take online courses from UTeach for Texas and complete field-based experiences in Austin ISD secondary schools during the fall semester. In January 2024, they will begin teaching in a classroom of their own and receive continued support from the program as early career educators. Austin ISD will employ the candidates as Teaching Assistants during the fall and provide a $10,000 stipend to cover the cost of the program. "We are grateful to Austin ISD for their significant support to these future teachers, and we are excited to work closely with the district to prepare excellent STEM teachers for their schools," said Carrie Culpepper, UTeach for Texas Program Manager. 
UTeach for Texas and Austin ISD are committed to solving the STEM teacher shortage crisis while ensuring that every student is taught by an excellent STEM teacher. Dr. Michael Marder, Executive Director and co-founder of UTeach, said, "Schools are facing a STEM teacher vacancy crisis right now, and there is no time to waste in helping career changers who want to teach relieve it." 
The program is now accepting candidates for the Austin ISD cohort that begins in August. Those who are interested can sign up to attend a virtual informational session at uteachfortexas.org.
Email uteachfortexas@utexas.edu for information.