It's UTeach's 25th anniversary!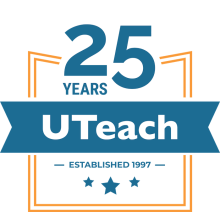 Please celebrate with us in 2023 at the UTeach STEM Educators Conference.
The conference will be held June 13–15, 2023, in Austin, Texas.
We will open with an afternoon pre-conference on June 13, the Equity and Racial Justice in STEM Teacher Development Pre-Conference. The following two days will be full of sessions and celebrations. 
Call for Proposals
If you're in the UTeach network, you will receive an invitation in December to submit a proposal.
Registration
Registration will open in December. 
Lodging
You can book a room in the discounted room block at the conference center hotel now; those rooms are limited. Information on rooms at other nearby hotels and in on-campus dorms will be available in January.
Sponsor or Exhibit
If you would like to sponsor or exhibit, please see our Sponsor/Exhibitor page or email us at conference@uteach.utexas.edu.
What we did in 2022
In 2022, we held an in-person UTeach STEM Educators Conference in Austin, Texas. The conference theme was Reconnecting with Purpose. We welcomed an opening keynote address by Dr. Mariam Manuel, a graduate of the teachHouston program, and a closing panel made up of UTeach alumni.
The day before the conference, we held a full-day Equity and Racial Justice in STEM Teacher Development Summit, opened by keynote speaker Dr. Terrance L. Green, Associate Professor in UT Austin's Department of Educational Leadership and Policy. The 2022 summit and the 2023 pre-conference are part of a multi-layered equity and racial justice initiative led by the UTeach STEM Educators Association.
Take a look at our 2022 proceedings and video playlist.