Conference poster example
Conference Poster Session
Student competition, location, time, and poster creation tips
Information on this page:
Student poster competition criteria
If your poster is accepted:

Poster creation tips
Poster session time
Poster session process 
Student poster competition criteria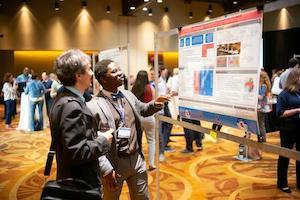 Posters are eligible for the competition only if all of the presenters are students. If one or more of the presenters are not students, the poster will be in the non-competition category.
As you submit your poster proposal, please consider the criteria here (PDF). We will use these criteria both to decide whether to accept your poster to the conference and to judge accepted posters during the competition. 
Poster creation tips
UT Austin has some helpful templates. There are two sizes to choose from, each available in PowerPoint and each containing eight different styles, with four layout options per style: 
Slides 1–5 include instructions on how to choose the best template for your project and edit it accordingly. 
You don't have to use these templates. They're just a resource in case you need them.
Session time
The poster session will be during the conference reception the evening of June 14, 2023. 
Poster session process
The poster session will be in the same ballroom as the reception. During the first part of the reception, presenters will stand beside their posters and talk to anyone who comes by. This is your chance to describe your work and answer questions; it's fun!
Student posters are eligible for prizes, so judges will be visiting you to see their work.
After about 30 to 45 minutes, presenters can leave their posters and join the rest of the reception.
Please email us at conference@uteach.utexas.edu if you have questions.
Questions? Email us at conference@uteach.utexas.edu
2023 Sponsors and Exhibitors