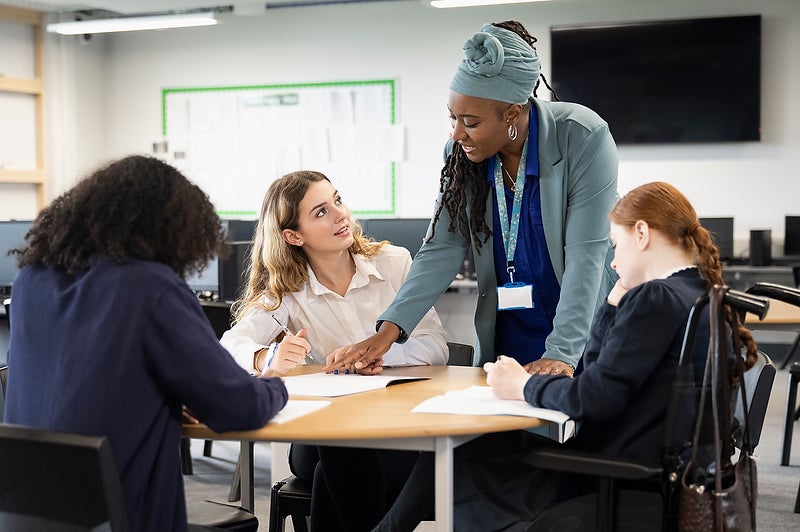 December 7, 2022
The UTeach Institute at The University of Texas at Austin is partnering with the Alabama STEM Council and six Alabama universities to increase the number of highly qualified STEM teachers produced in the state. The UTeach program combines rigorous subject matter preparation with secondary teaching certification without adding time or cost to four-year degrees. This makes it uniquely qualified to meet the current STEM teacher shortage in Alabama, as noted by the Alabama Legislature, which has committed $14 million over five years to implement the program in the state.
"Preparing our students for careers in a high-tech economy is vital — and all students across our state need access to STEM-based courses," said Dr. Eric G. Mackey, Alabama State Superintendent of Education. "Expanding Alabama's UTeach program will help put more STEM teachers in our classrooms and will be a game changer for schools that have had difficulty recruiting and retaining science and math teachers. We are excited about this program and the impact it will have on the students in urban and rural areas as we prepare all of our students to become more productive, responsible citizens as they graduate and enter the workforce."
The following six universities will be setting up their own UTeach programs beginning in Spring 2023:
Alabama A&M University

Auburn University

Auburn University at Montgomery

Athens State University

University of South Alabama

University of West Alabama
The University of Alabama at Birmingham will also be provided funds to continue to expand its UABTeach program, based on the UTeach model. Collectively, these universities are expected to produce up to 530 highly qualified STEM teachers for the state during the grant period and more than 250 STEM teachers annually once fully established.
"Our nation's colleges and universities represent the single best pool for recruiting and preparing future teachers. And we know from the research that they prepare the highest-quality teachers. UTeach offers an approach to help higher education institutions increase the number of STEM majors who choose teaching as a career. We are honored to partner with Alabama institutions to support their efforts to improve STEM teaching and learning through the production of excellent teachers for Alabama students," said Kimberly Hughes, Director of the UTeach Institute at UT Austin.
Teachers trained using the UTeach model confer significant learning gains in mathematics and science to their students when compared to students of non-UTeach teachers. An independent research study found that secondary students taught by UTeach graduates outperformed their peers in Texas by an additional 4 months of learning in math and 5.7 months in science over the course of one academic year.
In addition to improving student learning outcomes, UTeach programs have increased the number of secondary STEM teachers produced by universities across the U.S. The program is currently being implemented at 50 colleges and universities nationwide, and the Alabama universities will bring the number to 56. In the past 25 years, UTeach programs have produced more than 7,600 STEM teachers. This significant growth has occurred despite overall national decreasing trends in teacher production.