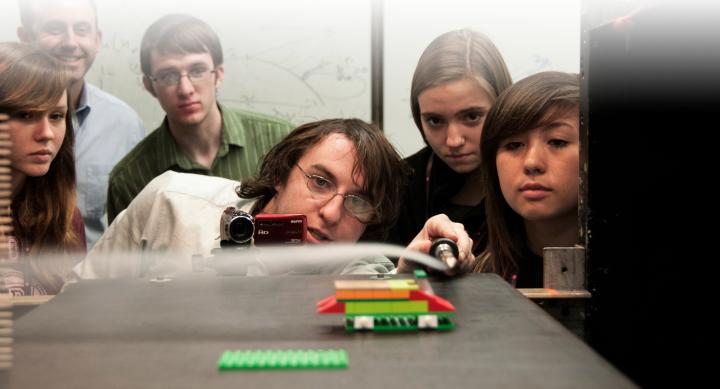 The UTeach model is a unique, exemplary way to increase the number of highly qualified secondary STEM teachers that universities produce.
Our nation's colleges and universities prepare the best teachers. They are home to the world's top scientific minds and education researchers, whose work is critical to advancing knowledge in the STEM disciplines. These same universities have a critical role to play in recruiting and preparing the nation's best STEM teachers, who will go on to expand access to STEM education and improve STEM learning outcomes for all students.
"One of the strengths of the UTeach program is that it's extremely content focused and that it teaches you pedagogy through the lens of content."

— Paige Roberts, UTeach Austin graduate and high school science teacher
UTeach is specifically designed to respond to the growing demand for well-prepared secondary STEM teachers. We leverage STEM and STEM education faculty expertise and target the significant population of STEM majors at our nation's colleges and universities. The UTeach program is customized to meet the unique needs of this population of future STEM teachers.
We are able to successfully increase the number of STEM teachers produced by recruiting STEM majors to teaching who have come to the university not thinking they want to teach, and then providing them with clinically intensive and STEM specific preparation that allows them to earn both a STEM degree and teaching certification without requiring additional time or cost.
How we do it
UTeach Institute employs a comprehensive approach to supporting implementation of UTeach that is aligned with recommendations from the research literature on fidelity of implementation and program replication and expansion.
Our approach to program expansion includes:
Clear articulation of program elements and expectations
Comprehensive planning with qualified sites
Intensive implementation support
Ongoing evaluations of progress
Sustained innovation through networked improvement
Let's talk
Contact us for more information and to see if UTeach is the right program for your university.