HBCUTeach Advisory Group
Ariel J. Taylor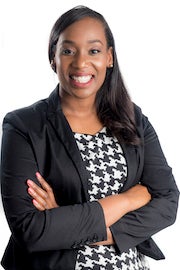 Dr. Ariel J. Taylor is the Director of UTeach Accelerate, a secondary STEM teacher preparation program for degree holders and career changers. As a UTeach Alumnus, Ariel is passionate about providing preservice teachers experiences that truly reflect occurrences in the field. She works to enrich authenticity in all dialogues and present opportunities for her students to explore ways to encourage diversity in math and science classrooms.
Ariel has worked in education for nine years as a high school mathematics instructor, instructional specialist and assistant professor of practice. Taylor holds a Master of Arts in Mathematics as well as a Bachelor of Science degree in Mathematics, both from the University of Texas at Austin. She received her Doctorate of Education (Ed.D.) with a focus on Professional Leadership and Policy Studies at the University of Houston.
Ariel is the Founding Director of The RISE Project 501(c)3, which focuses on providing opportunities to students in rural communities to help level the playing field and encourage rural and minority youth to reach beyond what they can see. Through collaboration with UTeach students, The RISE Project has developed Why Academy to provide tutorial services in math and science to students who would otherwise not have access.
Leah McAlister-Shields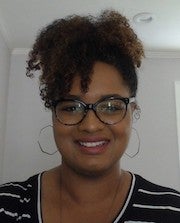 Dr. Leah McAlister-Shields is a lecturer and faculty advisor for the teachHOUSTON Program in the Department of Mathematics at the University of Houston. Dr. McAlister-Shields has more than 15 years of experience developing and implementing academic advising and student success initiatives. She has served on several grant-funded projects that support racialized minority STEM college student success. Her research and teaching interests include college student sociocultural capital, matriculation and persistence of underrepresented STEM majors, and culturally responsive STEM teaching in post-secondary settings.
Paulette Evans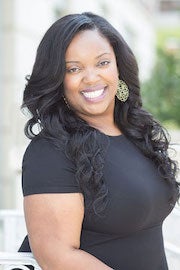 Dr. Paulette Evans, Ph.D. serves as a Clinical Instructor and Director of UABTeach at the University of Alabama at Birmingham. UABTeach is a replication site of the UTeach program developed by the University of Texas at Austin. The program specializes in preparing secondary STEM educators and prioritizes constructivist inquiry approaches to teaching mathematics and science. Prior to her work in teacher preparation, Paulette taught advanced and Advanced Placement Biology in both an exurban high school and a rural community college setting. Paulette also consults with A+ College Ready, where she serves as the lead science trainer. Through this work, she prepares high school students for the Advanced Placement Biology exam as well as provides professional development for in-service educators in the state of Alabama. Similarly, Paulette consults with the National Math and Science Initiative (NMSI) providing similar services with a national reach. Paulette is passionate about critical science and mathematics teaching. Her work focuses heavily on the application of critical theories and pedagogies to the teaching of math and science, as well as the recruitment and retention of African Americans in the field of STEM education. The goal is to, through STEM teaching and learning, empower educators and students to act against inequities and systems of oppression.
Taylor Alston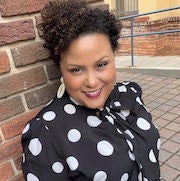 Taylor Alston is a proud HBCU alumna who holds a B.A. in English from Spelman College, and a Master of Arts in Educational Leadership, Management, and Policy from Seton Hall University. With 15+ years' experience in education, Taylor has been a founding teacher for organizations such as Achievement First, K.I.P.P., and Mastery Charter Schools. Having taught grades K-5 for over 9 years in public-charter and public elementary and middle schools, she went on to spend a year as PreK-8th Principal. During her year as a school transformation Principal in New Orleans, LA, she led one of the last public schools directly run by the Recovery School District, just before the district transitioned completely to a 100% charter school model. Taylor has worked for education non-profit organizations such as Turnaround For Children, Achievement Network, and currently, The National Math and Science Initiative where she currently serves as Senior Director, Coach Development . Taylor Alston is passionate about education reform, supporting all students furthest from opportunity, and is a student, teacher, and parent advocate.
Lynn Kirby
Lynn Kirby is an Assistant Professor of Practice with the UTeach Program at the University of Texas at Austin. She started as an award-winning middle school science teacher and during her 17 years of teaching students from diverse communities she began working with The College Board to develop a vertical team approach for science in order to better prepare more students for Advanced Placement courses and college level material. Because of her interest in providing successful access to education for all students, she worked on and received a graduate degree from St. Edward's University, with a focus on Social Justice and the opportunities that education can offer for all children.
After beginning her work at UTeach Lynn worked with the Sally Ride Science Program to develop a program of study for elementary and middle school students that would introduce students to both diverse scientists, mathematicians and engineers as well as the amazing variety of careers that science and math education can lead to. Thousands of teachers were trained around the United States and even more students were impacted by the program.
Following this experience Lynn worked with the Thurgood Marshal College Fund to help develop and train teachers to work with HBCU students to offer summer camps in math and science. Each year a new theme was chosen and a series of activities written to engage students in fun learning activities. HBCU students were invited to try out teaching and local middle school students were offered a free camp. The testimonials from the college students about their experiences were amazing!
For three summers Lynn worked at The University of the Virgin Islands, which was established in 1962 as a campus for local island students and then in 1986 it joined the HBCUs as the only campus not on the mainland of the United States. Lynn worked to bring a hybrid version of the UTeach courses Step 1/Step 2 that was attended by college professors, local high school and middle school teachers and college students. During the summer course we also had local middle school students come in for camp activities. The program was designed to both inservice local teachers and offer science/math majors the opportunity to try out teaching.
Lynn also served on the Advisory Board for Huston-Tillotson's Certification Program as they developed new paths to produce teachers from their campus. Part of the focus of the Advisory Board was to develop strategies to support HT students as they prepared for the certification exams.
Throughout her career Lynn has been active and engaged in what has developed into restorative teaching practices. Working with future teachers is an exciting way to keep growing and changing to meet the needs of new communities of students.
Steve Case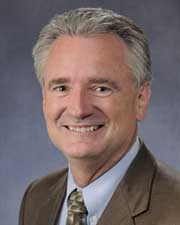 Dr. Steve Case was an award-winning secondary science teacher for 20 years before returning to the University of Kansas in 1997. During his secondary teaching career, his work included the creation of the curriculum model that drove a collaborative research network of 180,000 students from 31 countries to use cutting-edge technology for scientific research. He has worked on a variety of curriculum development projects including Biology in the Community, Global Lab, and Ecology: A Systems Approach.  He was Co-founder and Director of the Outdoor Education Laboratory, a not-for-profit environmental education organization. Dr. Case served as resident director of a tallgrass prairie nature center for 12 years, creating the management and restoration plan along with prairie education programming. 
Dr. Case is a Research Associate Professor and Director of the Center for STEM Learning (CSTEM) in the College of Liberal Arts and Sciences where he is a Co-Director of the UKanTeach STEM Teacher Preparation Program. During his time at KU, he also had the opportunity to serve as Chairman of the Kansas Science Curriculum Standards writing committee, working extensively on developing high quality state science education standards amid a great deal of political controversy. Under his leadership at CSTEM, he has developed a number of grant-funded programs in support of STEM teacher development including:  Extending Scientific Inquiry through Collaborative Geographic Information Systems (ESIC), a teacher development program designed to promote the use of geotechnologies in K-12 student research; United States and China: Seeking Common Environmental Research Strategies, a unique research and education collaboration between the University of Kansas and universities and schools in China; and The Kansas Partnership for Graduate Fellows in K-12 Education, in which graduate students in STEM disciplines work with local secondary schools to develop their science communication skills. For the KU School of Education, he has taught the elementary and secondary science methods classes.